Board of Governor's Award for Excellence in Teaching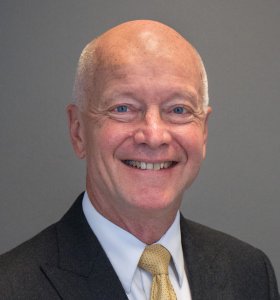 Patrick Conway
Patrick Conway, Professor, Department of Economics
Professor Conway has been a brilliant teacher and leader in economics education for the entirety of his career at UNC. A past winner of multiple teaching awards, Professor Conway has been doing evidence-based teaching before it was fashionable, among other things pioneering the use of business-case-histories to teach economic principles in entry-level economics courses and publishing evidence of its effectiveness in peer-reviewed journals. Professor Conway serves as Academic Director of the Entrepreneurship Minor at Carolina and helped develop an innovative sequence of practical courses to teach graduate students how to teach.  Students whom Professor Conway has taught write that his dedication to students has changed their lives.
Mentor Award for Lifetime Achievement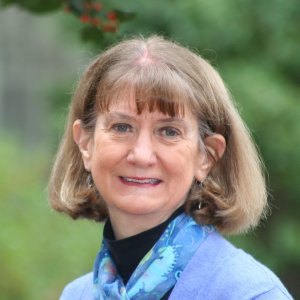 Susan Jean Beck
Susan Jean Beck, Professor, School of Medicine
As a UNC faculty member since 1980 and current Division Chair of the Clinical Laboratory Science program at UNC, Dr. Beck's impactful mentoring encompasses undergraduate and master's students along with junior faculty. Dr. Beck was one of the first faculty members in the Department of Health Sciences (SOM) to adopt social justice and DEI initiatives in her teaching and mentoring practices, which likely contributed to her program's diverse student cohort and personal mentoring relationships that flourish well beyond students' time at UNC.
Distinguished Teaching Award for Post-Baccalureate Instruction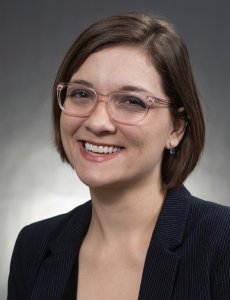 Wendy Clark
Wendy Clark, Clinical Assistant Professor, School of Dentistry
The committee was stunned by the sheer quantity of Professor Clark's nominations for this award. No less than 29 Dentistry graduate students individually wrote and submitted nominations. (We were assured by her Dean that there was no campaign per se. We were also told that in general, the dentistry students are reluctant to write, making this outpouring remarkable.) To outsiders at least, her field in restorative dentistry—namely, dentures—seems relatively unexciting. This unprepossessing topic makes her success even more inspiring. Professor Clark is unanimously acclaimed among her students for her clarity, kindness, innovations in pedagogy, and helpful real-world experience.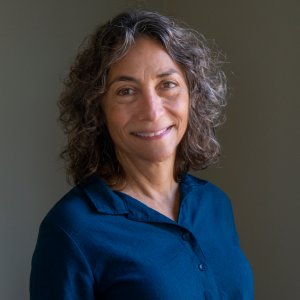 Susan Coppola
Susan Coppola, Clinical Professor, School of MedicineA consistent thread stitches together Professor Coppola's teaching as a faculty member in the Department of Health Sciences, Division of Occupational Science & Therapy. From reading her philosophy of teaching, talking with colleagues, alumni, current students, and supervisors, we learned that she places premium value on interprofessional collaboration, centering the needs of learners and the clients they serve, and differentiating learning experiences to reach all learners in OT courses. Professor Coppola approaches both the theoretical and clinical preparation of future therapists in multi-faceted ways that helps them see themselves as dynamic, capable therapists operating from an ethic of care and justice for those needing their skilled services. Professor Coppola accomplishes this through interdisciplinary learning that includes the arts and storytelling, and even with a global reach. Her impact is understated as she is described as a "quiet rockstar" and "connector." She connects people to people, clients to therapeutic care, people to subject, and people to purpose. In these ways, she is described as a dynamic instructor who literally practices what she preaches in her individualized care for the students she teaches.<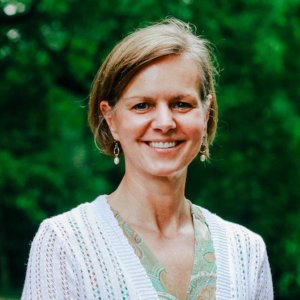 Jo Ellen Rodgers
Jo Ellen Rodgers, Professor, School of PharmacyDr. Rodgers is a professor in the Division of Pharmacotherapy and Experimental Therapeutics in the Eshelman School of Pharmacy. She is described as an inspirational scholar, scientist and top-tier clinician with an ideal perspective who has a passion for educating and remaining a continuous learner. She prioritizes integrating contemporary topics (e.g., social determinants of health) so that future health professionals are exquisitely prepared to succeed in their careers. She is instrumental in curriculum development and is a thought leader in recent curriculum changes in the School of Pharmacy. Her students raved about her ability to connect real-world clinical practice with classroom activities via her use of active learning activities and her ability to create a vibrant community in the classroom. In addition to being an excellent teacher in the classroom, the clinic, and the medical center, Dr. Rodgers serves as a lifelong mentor for students. In addition, her colleagues rave about her availability and mentorship to junior faculty members. One said that she is "the archetype of what it means to be a good clinician and professor."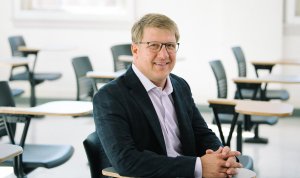 Matthew Springer
Matthew Springer, Professor, School of EducationProfessor Springer is the Robena and Walter E. Hussman, Jr. Distinguished Professor of Education Reform. Current and past doctoral students, his colleagues, and his Dean all describe him as one of the most outstanding graduate instructors they have ever seen in any context. His accessibility, support of students, and tremendous energy and time committed to students inside and outside of the classroom throughout the University beyond his own School is rare and to be applauded. He endlessly encourages diverse students from multiple backgrounds and identities with different career goals to help them be successful, and many credit him uniquely with being the person who helped them be the professionals and people that they are today.
Chapman Family Teaching Awards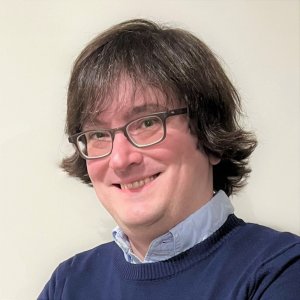 Patrick Harrison
Patrick Harrison, Teaching Associate Professor, Department of Psychology and Neuroscience
Patrick Harrison, PhD is a Teaching Associate Professor and Director of Instructional Development in the Department of Psychology and Neuroscience who specializes in skills-based statistics and methodological courses as well as well as content-based theoretical courses. Dr. Harrison teaches courses in both the fall and spring semester (e.g., Statistics, Statistical Methods, Research Methods in Psychology, Theoretical, Empirical Perspectives on Personality). Dr. Harrison has an amazing ability to clearly articulate the main goals and skills that students need to be able to engage in, teach these skills, and move seamlessly between lecture content and engaging with students. He is technically and pedagogically a very strong and inclusive teacher and so clearly passionate and caring.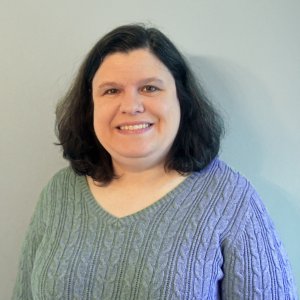 Anastacia Kohl
Anastacia Kohl, Teaching Associate Professor, Department of Romance Studies
Anastacia Kohl, EdD is a Teaching Associate Professor and Director of Spanish Language Instruction in the Department of Romance Studies and is an expert language instructor. Dr. Kohl teaches courses in both the fall and spring semesters (e.g., Theories and Techniques of Teaching Foreign Languages and a 4-semester Spanish language course). Students learn how to speak, write, and read Spanish and she inspires in them a love for Spanish. She creates a true community of learning within her class as students attest to in their remarks about her. She also has a significant impact on TAs and inspires in them a newfound love for teaching.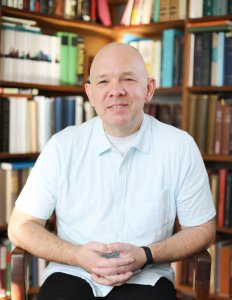 Soren Palmer
Soren Palmer, Teaching Assistant Professor, Department of English
Soren Palmer, PhD is a Teaching Assistant Professor in the Department of English who specializes in English, comparative literature, and creative writing. Dr. Palmer teaches courses in both the fall and spring semesters (e.g., Literature and Cultural Diversity, Intro to Composition and Rhetoric, Intro to Literature). His classroom is a place where students from varied cultural, religious, and educational backgrounds establish relationships and learn from the experiences of others. Taking a class with him is a life-changing experience. Dr. Palmer instills an atmosphere of trust where difficult topics are shared and thoughtfully and beautifully discussed.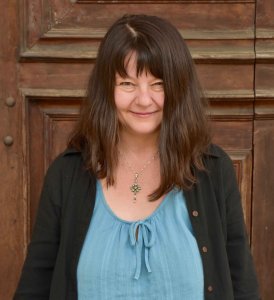 Milada Vachudova
Milada Vachudova, Professor, Department of Political ScienceMilada Vachudova, PhD is a Professor in the Department of Political Science who specializes in European politics, political change in postcommunist Europe, the European Union, and the impact of international actors on domestic politics. She teaches courses in both the fall and spring semester (e.g., Political Science, European Union, and Politics of East Central Europe). She draws connections across time and continents to deepen student understanding of domestic and world politics. She is an extraordinarily well-cited scholar in her field and, despite all of this success, has a tremendous ability to teach, inspire students, and extend genuine care and compassion toward them. She is a quintessential teacher-scholar.
</div
Tanner Award for Excellence in Undergraduate Teaching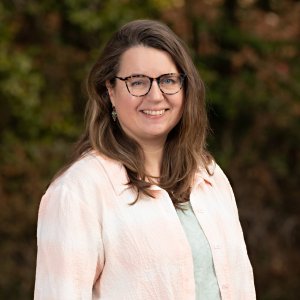 Amy Cooke
Amy Cooke, Teaching Associate Professor, Environment, Ecology and Energy Program 
Professor Amy Cooke is a teaching associate professor in the environmental ecology and energy program. Cooke has taught ten different courses for the department, ranging from large lectures to small seminars. She has excelled in all her teaching responsibilities, finding ways for students to feel safe to discuss sensitive, controversial, and contemporary topics. Cooke invests tremendous time mentoring students outside the classroom, meeting with over 100 students each semester to discuss career goals, courses they should take, internship opportunities, and job opportunities. A combination of humility, broad experiences, background knowledge, and uncanny ability to connect with students make Cooke an instructor who profoundly impacts students' lives.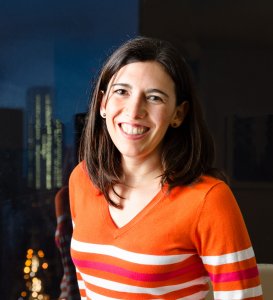 Carla Merino-Rajme
Carla Merino-Rajme, Assistant Professor, Department of PhilosophyProfessor Carla Merino-Rajme is an assistant professor in the Philosophy Department. She teaches courses on the metaphysics of time and phenomenology of time, which present significant intellectual challenges as students wrestle with abstract, difficult, and rarely-seen-before content. Despite these hurdles, Merino-Rajme has an uncanny ability to see students' ideas and help them build them up, clarify them, and expand them. Student evaluations frequently comment on how she stretched students intellectually while helping them feel supported and, ultimately, succeed in the course. She is truly dedicated to helping all students succeed.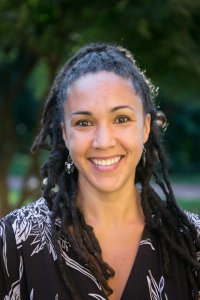 Chérie Rivers Ndaliko
Chérie Rivers Ndaliko, Associate Professor, Department of GeographyProfessor Cherie Rivers Ndaliko is an associate professor in Geography. Ndaliko's approach to teaching blends two progressive practices – active learning and slow scholarship. The active learning approach emphasizes engaging students in applied, hands-on exercises and activities, often student-driven and student-led. Ndaliko has also adapted slow-scholarship practices to provide students more time to think, write, read, research, analyze, and edit their work. One student noted: "Ndaliko engaged the class with challenging coursework that necessitated extraordinary self–reflection and vigorous grappling with historical and current real–world issues." Ndaliko is passionate about her students and her craft, providing students with an extraordinary learning experience.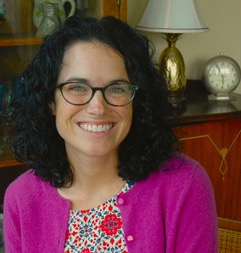 Katherine Turk
Katherine Turk, Associate Professor, Department of HistoryProfessor Katherine Turk (History) specializes in the histories of women, gender and sexuality, and social movements. She is a master teacher. Turk challenges her students to think analytically about the past – largely the 20th century United States – and how the past has shaped the present, and what the past tells us about how we might shape the present ourselves. One colleague noted in their classroom observation, "In many ways, this was an exemplary perfect class which could be recorded and marketed as books on tapes to general audience…Turk's abilities and preparation as an undergraduate instructor is truly impressive."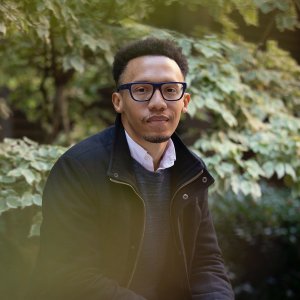 Sidney Wilkerson-Hill
Sidney Wilkerson-Hill, Assistant Professor, Department of ChemistryProfessor Sidney Wilkerson-Hill is an assistant professor in Chemistry. Wilkerson-Hill elevates student learning to a higher level, pushes students toward mastery, and empowers students to wrestle with the complex subject matter (e.g., Organic Chemistry). One colleague describes him as having "deep content knowledge of the material, effective teaching style, and positive, open approach to his students [that] combine to make the class a wonderful learning environment." Student recommendations echoed this statement: "He made organic ii fun!!" and "He creates a supportive environment in small group settings…where I don't feel scared or looked down on if I ask questions."
William C. Friday Award for Excellence in Teaching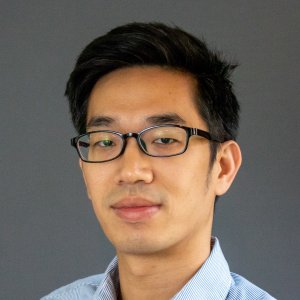 Brian Hsu
Brian Hsu, Assistant Professor, Department of LinguisticsProfessor Brian Hsu is an assistant professor in the Department of Linguistics. He takes a skills-based learning approach, providing students many opportunities to demonstrate mastery of understanding the structure of language. Hsu makes "an extreme effort" to bring all students into highly interactive conversations and discussions while being very understanding and accommodating of student needs. Last year, the Department reviewed overall teaching evaluation scores and Hsu had the highest score in the Department, speaking to his ability to build community in classroom, set high expectations, and connect to students.
J. Carlyle Sitterson Award for Teaching First-Year Students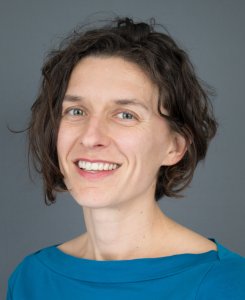 Megan Plenge
Megan Plenge, Teaching Associate Professor, Department of Earth, Marine and Environmental Sciences
Prof. Plenge is a fantastic introductory and FYL instructor. She devotes herself to pedagogy and bridging high school and higher education. The praise of her being an "amazing professor" appeared very frequently in her course evaluations. Students love her, as she teaches with "awesome enthusiasm and funny stories," she is "great with questions and explaining things further," and she is many students' favorite professor at UNC.
Danielle Zurcher
Danielle Zurcher, Teaching Assistant Professor, Department of ChemistryOne student noted that Prof. Zurcher taught them in CHEM 101 when they were a first-year student. The student liked how Prof. Zurcher took difficult content and made it easier to understand. Rather than treating this as a weed-out intro STEM course, she actually taught for the sake of helping others learn. Her Chair said that, even in a class of 250, Prof. Zurcher taught one-on-one. She used all the new teaching techniques and got to know the students. Moreover, she did not teach to the top 10%; she authentically cares about all of her students.
Johnston Teaching Excellence Award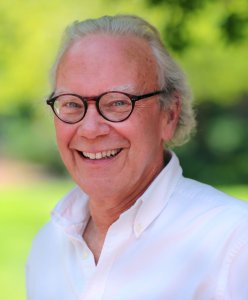 Gary Pielak
Gary Pielak, Professor, Department of ChemistryProf. Pielak has a 30-year track record of top-notch teaching and research (Chair describes him as world-class), but he remains down-to-earth and accessible. Students love him, and his mentorship has changed many lives. His Chair gets many unsolicited emails and letters from past students to tell him how much Prof. Pielak has positively influenced their lives. He has helped to shape and mentor many distinguished researchers and professors who started in his lab. Prof. Pielak fosters an environment of care in his classroom and lab, and he also cares for students outside of them. He hits it out of the ballpark on all levels.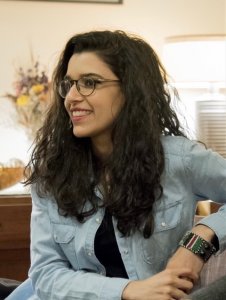 Aalyia Sadruddin
Aalyia Sadruddin, Assistant Professor, Department of Anthropology
The word "inspiring" comes up again and again when describing Prof. Sadruddin. Only in her second year at UNC, Prof. Sadruddin has revealed herself to be a passionate, engaging professor who has already touched many students' lives, not only in her approach to teaching, but in the sincere care she shows her students. Testimonials point to her inclusivity and making students feel "seen and heard" in a way they had not experienced before. Despite her short tenure, she has managed to make an impact on students' career choices and left a permanent imprint on how they view the world. She is clearly someone who inspires emulation. Her Chair spoke of her in glowing terms and said that Prof. Sadruddin's courses are among the most popular in the department. She also said that Prof. Sadruddin's job talk brought the audience to tears, it was so moving.
Tanner Award for Exellence in Undergraduate Teaching by Graduate Teaching Assistants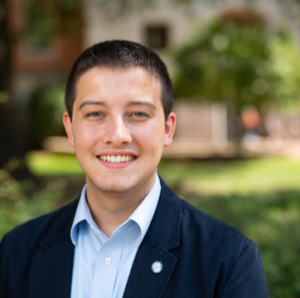 Seth Alexander
Seth Alexander, School of MedicineSeth teaches courses in biology, teaching many pre-med students. He took a gap year to get a Master's in teaching before returning to school, and his students are outspoken in their respect and admiration for him. A few comments from his nominations: "Seth reminded the entire class through his story of why he teaches, that it is most important to pursue a career that you enjoy and to have a reason why you get up and go to work each day." "He's a force for good and will touch a lot of lives and they will be better for it." "Whether he knows it or not, Seth played a large role in reaffirming my interests in medicine." "With this class, I set my future as a physician." "Mr. Alexander prioritized creating a positive learning environment in order to instill a sense of inclusion and belonging."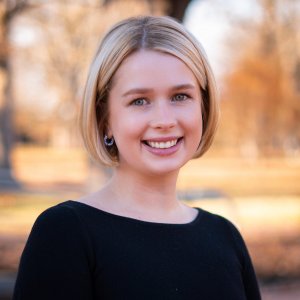 Elizabeth Baldwin
Elizabeth Baldwin, School of NursingElizabeth, known to her students as Lizzie, is not just a TA: she is a role model, mentor and coach for her students in the School of Nursing. She assists students in the most difficult and demanding courses in the curriculum, and the students come out on the other side with a strong understanding and appreciation of the material. According to faculty observers, there are two reasons for this: Lizzie has a deep and nuanced understanding of the course material and Lizzie is strongly supportive, encouraging the students to believe that they can not only succeed in the course but apply their learning in their subsequent careers. As one nominator put it, "She weaves in stories from her own clinical experience and makes room for others to share theirs. She offers us valuable words of affirmation, and everyone feels like she is in their corner."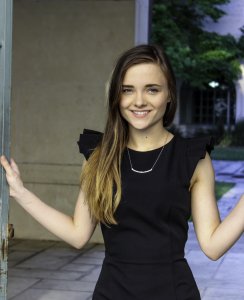 Abigail Newell
Abigail Newell, Department of Sociology
Abigail has taught independent classes on sex, gender, and society since her fourth year in the Ph.D. program. To a student, this class can seem like an onslaught of negative news, but Abigail creates a positive space in class for collaboration between students. A few comments from students in her nominations: "Every class began with a 'check-in' which was her way of drumming up conversation and getting the class focused, and it sooooo worked." "Throughout the semester, we spent class time reflecting about our feelings and overall mental health." "Ms. Newell made everyone in the class feel welcome while also addressing the inequalities within our society at the micro, meso, and macro level. She made sure everyone had their voice heard." "She also told us if we ever needed time with her dog, we could visit him."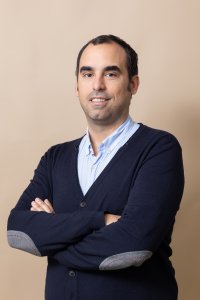 Rafael Núñez Rodriguez
Rafael Núñez Rodriguez, Department of Romance Studies
Rafael stands out for his innovative, rigorous, and extraordinarily engaged teaching. He creates a truly immersive language environment that, as one student put it, "challenged me to learn in a deeper way than I ever had before." Students credit him for giving them a new understanding of Spanish culture, inspiring them to empathize and engage with Spanish-speaking students in Chapel Hill, as well as energizing them to travel outside the country and pursue further foreign language studies.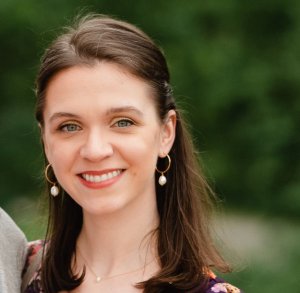 Alexandra Wojda-Burlij
Alexandra Wojda-Burlij, Department of Psychology and NeuroscienceAlexandra is an outstanding and empathetic teacher. Her students say she inspires them to "think beyond the textbook" and helps them "learn to a degree that I hadn't before." She has developed a case-based structure for her courses that puts the emphasis on critical-thinking skills rather than rote memorization and has served as an instructor for an impressive number of undergraduate courses. Alexandra's students feel included, valued, and empowered in her class. Many also commented on her exceptional mentoring, which helped them prepare for their post-college futures.